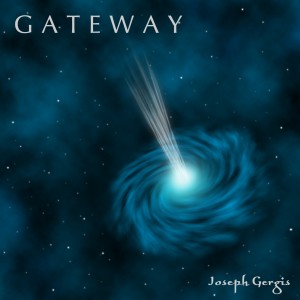 If you haven't already liked my Facebook page, I would appreciate it if you'd do so, with my thanks!
Four years ago I composed and released "The Passage to Eternity". At the time I thought this was the best I could do, and indeed, it was.
A lot has changed in four years.
I usually release albums when the Record Producing Month Challenge comes around in February. In 2012, due to various circumstances I decided not to release new work. There was just too much going on and I couldn't give a new work the focus it deserved.
This new work, Gateway, has been in the planning stages since then. I had originally planned it as a follow up to 'The Passage to Eternity' (TPTE); indeed, I wanted to play off of some of the themes in the very last song, 'The View to Eternity', especially those developed in the last two minutes. But a funny thing happened on the way to the forum, er, recording studio: it never worked out. For whatever reason I simply could not make a followup work based on what had already come before. I'd already said what I wanted to say with TPTE, and doing more of the same, while an intriguing notion, simply wasn't working out despite any of my attempts. And so it became an idea I returned to time and again in the intervening years (at one point I was seriously thinking this might have been released in 2011 — that was NOT in the cards!), until very late last year.
I finally was able to spend some serious time thinking about this album towards the end of 2013. With February rapidly approaching I began the process of compiling my thoughts about where and how to go with my music. In January, I began to realize that 'Gateway' was taking me in a very different direction. I was not interested in following up, at least directly, on TPTE; at the same time, I think I felt a bit trapped by the structure I had defined for TPTE and wanted to work in a completely different manner. And that is what happened – those who read my blog during the development of this work got to see the progression (albeit vaguely, as I was not as descriptive this time around) from writing to recording to mixdown. Things proceeded very quickly once I had figured out the sonic landscape, which took four days. Recording took 11 days, which is VERY fast for me, and went very, very well in contrast to prior years. For some reason things just worked the way I needed them to. Mixdown took me to the end of the month because of two song splits that I absolutely required to be perfect; this album is meant to be played continuously and I refused to have songs that can't be split as well as listened to as part of the album. I had to re-engineer a couple of songs to adjust start points perfectly, such that they would make sense played as individual songs, and yet not interrupt the flow of the entire album.
In fact, one of the split points was a compounded bad decision; at one point, i had needed to fade from 'The Edge of Forever' to 'Persistence of Vision', because there are reverb effects that carry from one track to the next. However, during the listen-through I would conduct each night, I found I had to leave some extra time sonically between the two tracks, and thus the whole problem of needing to crossfade and recut the tracks was eliminated. I never went back and fixed it until late in the process when I realized I didn't have to crossfade anymore. It sounded cleaner after I stopped doing it, and meant less production work at the end. The last remaining split point, between 'Event Horizon' and 'On the Other Side', gave me no end of grief until the last day of production, the 28th.
This album represents a different direction for my music. It's a bit fast in tempo for ambient, and maybe a bit more melodic, but I prefer to think of it as belonging to the ambient genre. That, perhaps, is the biggest discovery I made during the process of producing this album. I think I'm very comfortable with being an artist who primarily writes ambient; certainly, ideas for remixing this album abound (stay tuned) and I have ideas for other albums that don't necessarily follow on after. There's room for growth and I'm really pleased about that. 'Gateway' seems to come from a similar source as 'The Darker Light' did, but in my opinion it's far more refined and cohesive. As much as I love all of my prior work, 'Gateway' is by far my favorite.
One big change is the lessened usage of the orchestral and acoustic, and a much heavier use of synthesizers. In my future work I want to revisit how best to integrate the acoustic and the electronic, but for this album it just made more sense to not focus on the acoustic instrument parts. This was most notably felt when I removed the overture, which was my final compromise to adding in a purely orchestral work. I think it contributed to making a more cohesive work that sounds tighter, rather than being divided and distracted between two very different sonic spectrums. I'm already figuring out how to intersperse the violin, though, and that may be something to explore more fully in the future.
Seven tracks. Thirty-nine minutes. I thank you for reading, and I hope you enjoy listening to 'Gateway'.
Listen to the album on SoundCloud
Coming soon to streaming websites (Rdio, Spotify, and others).